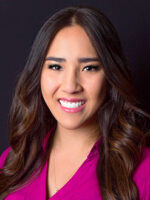 Sydney Chong
Marketing Coordinator
As Marketing Coordinator, Sydney is responsible for facilitating the implementation of marketing, PR, and promotional programs to drive exposure for Southern Arizona and increase national/international awareness and exposure for business relocation and expansion decisions.
Before joining Sun Corridor Inc. in 2018, Sydney was a Business Management Associate for General Mills. In this role, she developed business plans to drive growth in market, sold execution strategies at the corporate level utilizing customer specific promotional and merchandising plans, and analyzed syndicated data to adjust strategy to meet corporate objectives.
Sydney holds a Bachelor of Science in Marketing from the University of Arizona.