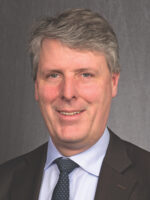 Chad Whelan
CEO
Banner – University Medicine Tucson
Chad Whelan, MD, directs the Tucson operations for Banner University Medicine Division, which includes two hospitals and 17 clinic locations.
As a member of Banner's senior executive team, Dr. Whalen works in partnership with leaders at the University of Arizona College of Medicine and the UA Health Sciences colleges and centers.
Professionally, Dr. Whelan is an academic physician executive who most recently served as Professor at Loyola's Chicago Stritch School of Medicine, with 20+ years teaching residents and students. Whelan has held several leadership positions in academic medical centers and in a large national health system.
He previously was the President of Loyola University Medical Center where he was responsible for the 550-bed hospital and 25 ambulatory clinic sites with 700 employed physicians and 4500 employees. Prior to becoming president, Dr. Whelan served as senior vice president and CMO.
His background also includes multiple leadership and clinical roles at Loyola and the University of Chicago Medicine. Throughout his career, Whelan has been actively involved in teaching residents and students, and oversight of the Graduate Medical Education Programs. He achieved rank of Professor of Medicine at Stritch School of Medicine, has published multiple academic papers and serves on numerous national committees.
Dr. Whelan earned his medical degree from University of Illinois at Chicago and his Masters in Public Health & Business from University of Michigan.
Prior to moving to Tucson, Dr. Whelan spent his entire life in the Midwest, with the majority in the Chicago area.