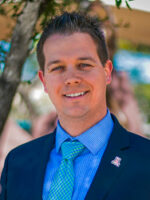 Chris Cornelison
Acting Town Manager
Town of Oro Valley

Chris Cornelison has served the Town of Oro Valley for the past 10 years, with the past 6 in the capacity of Assistant/Deputy Town Manager and is currently serving as Acting Town Manager. Cornelison is responsible for the non-public safety operational departments and services, including streets maintenance, transit, fleet and facility maintenance, engineering, economic development, planning and permitting, capital improvement project planning, stormwater, water, administrative services (HR, IT, finance and legal services), intergovernmental relations, marketing and public affairs.
Cornelison is an active member of the International City/County Manager's Association (ICMA), through which he is in the process of applying to become a Credentialed Manager Candidate. He is also a member of the Arizona City/County Manager's Association (ACMA) and served as the Chair for the 2017 ACMA Winter Conference. He serves as a member of the Community Advisory Board for the University of Arizona School of Government and Public Policy, while also serving as a Professional Advisor for the University of Arizona ICMA Student Chapter.
During COVID in 2020, Cornelison led the $1 million OVSafeSteps business assistance program, helping more than 200 local businesses receive financial and marketing assistance. This collaborative effort led to the program winning the national award for first place in the 2022 City-County Communications & Marketing Association's Savvy Award category of Communications and Marketing Tools: Printed Publications – COVID PR, as well as won an IMPACT Award from the Public Relations Society of America for Southern Arizona. Cornelison also recently received the 2022 Tucson Hispanic Chamber's 40 Under 40 Award.
Cornelison earned a Bachelor of Science in Public Administration from the University of Arizona's Eller College of Management, with a double major in Criminal Justice and Management & Public Policy. He subsequently earned a Master of Public Administration in 2012, with a dual focus in Finance and Local Government. Cornelison lives in Oro Valley with his wife, Bernadette, and their two small children ages 1 and 4.