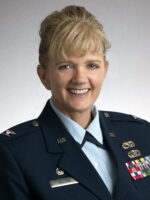 Colonel Sandra Wilson
(DoD Liaison to Board of Directors)
162d Wing Mission Support Group Commander
Morris Air National Guard Base
Colonel Sandra Wilson serves as the Mission Support Group Commander for the 162d Wing, Tucson, Arizona. The Mission Support Group consists of over 400 Airmen, civilians and contract employees responsible for personnel management, installation operations and maintenance, logistics and contracting activities, security and emergency services, and communications networks for the main base at Tucson International Airport and for the geographically separated units at Davis-Monthan AFB and Libby Army Airfield, Ft Huachuca.
Colonel Wilson began her Air Force career on active duty in the Mission Support Group as a Law Enforcement Specialist and has served in all three components of the Air Force (Active, Reserve and Guard).  While in the Air Force Reserves, (then Staff Sergeant) Wilson deployed in support of Operation Desert Storm. She affiliated with the Tucson Air Guard Medical Group in 1994.
Colonel Wilson was commissioned through the Academy of Military Science in 1996, earned a Master of Science Degree in Human Resources Management from Troy State University in 2000 and graduated Air War College in 2013.  She has served in every Group on the installation.  Her previous assignments (as an Officer) include Mission Support Group Deputy Commander, Maintenance Group Deputy Commander, Maintenance Squadron Commander, Headquarters Squadron Commander, International Military Student Officer, Director of Equal Opportunity, and Services Flight Operations Officer.  Additionally, Colonel Wilson served on the AZNG border mission as the Officer in Charge of Operation Copper Cactus, Task Force South.
Colonel Wilson retired from the Tucson Police Department in 2010 after 20 years of distinguished service where she served as a fulltime Detective.  She is the mother of two children, Carly and Connor, whom she is extremely proud of.