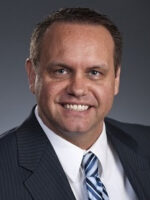 David Larson
President
BFL Construction Co., Inc.
David Larson is a deeply proud 6th generation Arizonan who serves as President of BFL Construction, BFL Builders, and BFL Ventures. In 2018 David was instrumental in bringing JV Driver Group, BFL's Canadian parent company, to southern Arizona. David embraces service as his life purpose through serving his family, his church including a foreign mission to the Yucatan Peninsula in Mexico, and his community both regionally in the US and Mexico. As President of the BFL companies David serves by coaching an outstanding team of individuals who have continued to deepen BFL's 45-year roots in Tucson, while also expanding BFL into new locations and other construction specialties.
Since its inception in 1973, BFL has gradually expanded from tenant improvements to multi-million-dollar projects including bio-medical, healthcare, industrial, and commercial projects. Now as subsidiary of JV Driver, BFL wields an expertise in mid and high-rise construction.  Over the years BFL has become skilled at dealing with the complexities of development services for clients. BFL now uses that knowledge for clients including NexMetro and Alta Vista Communities as they develop and build affordable rental home communities in Tucson and metro Phoenix under the Avilla rental home brand. This knowledge has also been valuable in BFL's expansion into federal, tribal, and military projects. BFL is a proud part of JV Driver's Building and Civil Enterprise group adding to JV Driver's international portfolio.
David brings 20 years of expertise in business management and the construction industry to his highly focused career. In the past he has played a role in the expansion of a diverse group of businesses locally and nationally. Additionally, David successfully navigated positions in development and strategic management for Montecito Communities, Centex Homes, Pulte Homes, Hubble Homes, and Southwest Homebuilders. He served on the Board of Directors of a company focused on developing a new shipping port in Guaymas, Sonora, Mexico.  As a social entrepreneur, David and two partners founded Axolotl Biologix, a Phoenix-based regenerative medicine company in 2016.