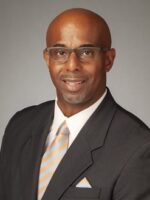 Ernie Jones
Senior Director, Tucson National Center of Excellence
Comcast
Ernie Jones has been with Comcast since 2015, he's has been serving as Director of the Alpharetta Inbound COE for Central Division. In this role, Ernie has done a tremendous job leading the COE to exceptional sales performance, positive ENPS/TNPS results, and finished 2017 with a 92.1% YourVoice score. His experience, interpersonal skills and strategic insight navigating the complexities of running a COE make him an invaluable part of our remarkable Comcast team.
Ernie has more than 25 years of experience in call center leadership, operations, sales, and customer support. Before joining Comcast Ernie spent 5 yrs. working for LexisNexis as Director of Operation and Call center support. He led call center operations for LexisNexis' background screening division, where he introduced the concept of a strategic account management team to better advocate for client's need and wants. Ernie holds a bachelor's degree in Business Administration from the Morehouse College.
Ernie has been together with his wonderful wife Jackie for 18 years, they have four children: Jonas, Jenea, Jada, and Elle.