[z_slider slides="%5B%7B%22image%22%3A%22715%22%2C%22heading%22%3A%22OPPORTUNITY%20RISING%3A%20TUS%20BLUEPRINT%22%2C%22desc%22%3A%22The%202019%20TUS%20Blueprint%20is%20a%20new%20vision%20for%20commercial%20development%20of%20both%20Tucson%20airports%20(Tucson%20International%20and%20Ryan%20Airfield)%2C%20incorporating%20major%20stakeholder%20input%20for%20asset%20mapping%2C%20gap%20analysis%20and%20new%20growth%20strategies%2Ftactics.%22%2C%22button%22%3A%22url%3Ahttp%253A%252F%252Fsuncorridorinc.com%252Fabout-us%252Ftus-blueprint%252F%7Ctitle%3ALearn%2520More%7C%7C%22%7D%2C%7B%22image%22%3A%221424%22%2C%22heading%22%3A%22POSITIONED%20FOR%20PROGRESS%22%2C%22desc%22%3A%22The%20Southern%20Arizona%2FSonoran%20region%2C%20with%20a%20total%20population%20of%204.25%20million%2C%20is%20a%20binational%2C%20world-class%20center%20in%20integrated%20research%2C%20manufacturing%20and%20supply%20chain%20strength.%22%2C%22button%22%3A%22url%3Ahttp%253A%252F%252Fsuncorridorinc.com%252Findustry-strengths%252F%7Ctitle%3ALearn%2520More%7C%7C%22%7D%2C%7B%22image%22%3A%221425%22%2C%22heading%22%3A%22WHERE%20TALENT%20CONVERGES%22%2C%22desc%22%3A%22As%20one%20of%20the%20fastest%20growing%20megaregions%20in%20the%20U.S.%2C%20the%20continuing%20in-migration%20of%20talent%20at%20all%20levels%20positively%20impacts%20the%20regional%20economy%20and%20translates%20into%20increased%20workforce%20availability.%20Combined%20with%20being%20ranked%20as%20a%20top%20five%20entrepreneurial%20city%2C%20Tucson%20and%20Southern%20Arizona%20is%20well%20equipped%20to%20meet%20your%20workforce%20and%20talent%20needs.%22%2C%22button%22%3A%22url%3Ahttp%253A%252F%252Fsuncorridorinc.com%252Ftalent%252F%7Ctitle%3ALEARN%2520MORE%7C%7C%22%7D%2C%7B%22image%22%3A%221564%22%2C%22heading%22%3A%22DATA%20THAT%20DRIVES%20DECISIONS%22%2C%22desc%22%3A%22Workforce%2C%20available%20properties%20and%20sites%2C%20cost%20of%20doing%20business.%20These%20are%20all%20critical%20components%20of%20any%20relocation%20or%20expansion%20decision.%20Sun%20Corridor%20Inc.%20is%20home%20to%20this%20information%20and%20is%20ready%20to%20assist%20you%20to%20find%20the%20data%20you%20need.%22%2C%22button%22%3A%22url%3Ahttp%253A%252F%252Fsuncorridorinc.com%252Fsites-and-data%252F%7Ctitle%3ALEARN%2520MORE%7C%7C%22%7D%5D"]
COVID-19 Update
As of Monday, May 18th, our office is currently open. Amid ongoing concern about Coronavirus (COVID-19), Sun Corridor Inc. is closely monitoring reports from the Centers for Disease Control (CDC). We will continue to reevaluate this situation as developments occur and will provide updates online here.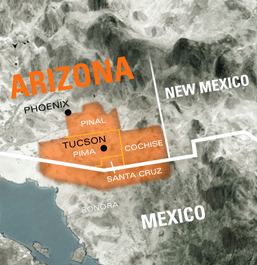 SOUTHERN ARIZONA'S ECONOMIC ENGINE
Sun Corridor Inc. is a transformative economic development organization representing one of the most dynamic and growing major business centers in North America.  Located in Southern Arizona and encompassing four counties (Pinal, Pima, Santa Cruz and Cochise), Sun Corridor Inc. is a CEO-driven regional alliance whose members aggressively champion mega-regional issues that impact economic competitiveness and quality of life.
The organization has helped to drive significant business investment into the Tucson and Southern Arizona region through primary job creation, resulting in an economic impact of $29.5 billion.
Company Locates & Expansions: 173
Economic Impact: $29.5 billion
[simple_link arrow_icon="true" link="url:https%3A%2F%2Fsuncorridorinc.com%2Fabout-us%2F|title:Learn%20More%20about%20Sun%20Corridor%20Inc||"]
STATS / DATA / INFOGRAPHICS
Our Sites & Data section contains comprehensive information on the demographics and vital statistics of Southern Arizona but our team can also collect site specific information tailored to your needs.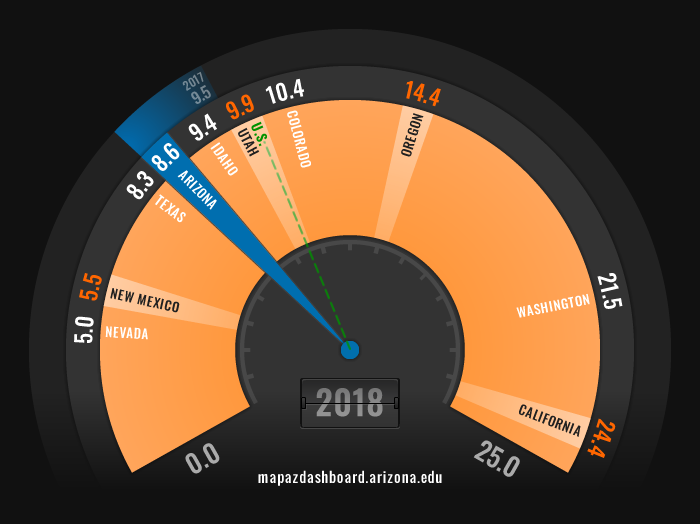 Patents Per 10,000 Workers (2018)
[simple_link center="true" link="url:https%3A%2F%2Fmapazdashboard.arizona.edu%2Feconomy%2Fpatents|title:LEARN%20MORE|target:%20_blank|"]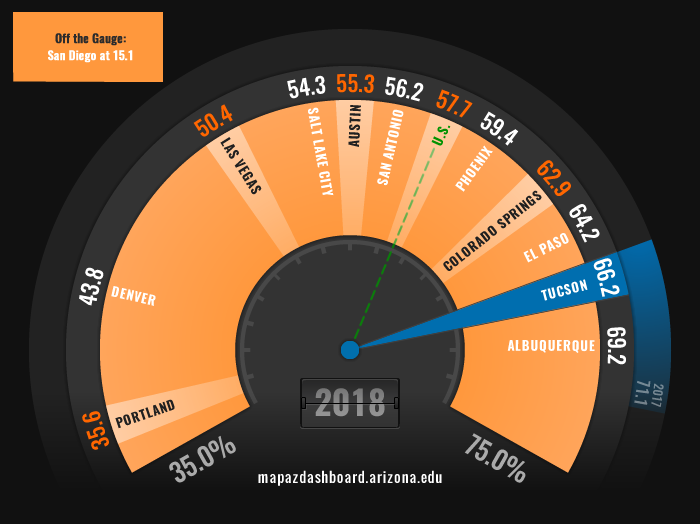 Housing Affordability Index (2018)
[simple_link center="true" link="url:https%3A%2F%2Fmapazdashboard.arizona.edu%2Feconomy%2Fhousing-affordability|title:LEARN%20MORE|target:%20_blank|"]