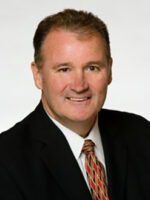 Joseph Coyle
Managing Director
The Patrick Group
Joseph ("Joe") Coyle brings with him 35+ years as a human resources professional with significant executive level experience in a wide range of areas specific to the aerospace and defense industries. Coyle is currently with The Patrick Group an executive search and consulting firm dedicated to the aerospace and defense field. This firm offers extensive industry experience and knowledge, specialized research methodology, a dedicated and proven process and comprehensive offerings that produce accurate leadership results. Senior Leadership searches within our targeted industry are extensive and have spanned a wide area of specialties. The principle areas of executive searches have focused on Board Members and General Management, Business Development, Product Line & Program Management, Human Resources, Finance & Contracts, Engineering/Technical Management, and Manufacturing & Supply Chain.
Selected Achievements with The Patrick Group:
Recent searches have focused on executive Human Resources, Finance, Logistics and Business Area Area Executive positions, including several international placements.

Leadership and Organization Development consulting project focused on establishing and integrating a Chief Technology Office.

Led various Six Sigma projects focused on organization design and operational efficiencies.

Served for one year as the interim CEO for Avchem Company (a Chemical Management and Distribution business with $60M rev/yr) while the company was going through its acquisition and consolidation.
Coyle was previously Vice President, Operations Support and External Affairs at Raytheon Missile Systems, responsible for Environmental Health and Safety, Security, Government Property Management, Systems and Procedures, Enterprise Support Services, and Community and Government Relations. Earlier, he served as Vice President, Human Resources (HR) and External Affairs at Raytheon Missile Systems, overseeing all HR, Enterprise Communication Services, and Community & Government Relations functions. Mr. Coyle held a similar position for Hughes Aircraft Company prior to the merger of Raytheon Company and Hughes Aircraft Company.
Before joining Hughes in 1996, Coyle was Vice President, Administration and Operations Support at Loral Space and Range Systems (formerly part of Ford Aerospace). In this position, Coyle continued his responsibility for all Human Resources activities in addition to Product Assurance, Manufacturing, Configuration and Data Management, Publication and Proposal Production, and Environmental Health and Safety. Prior to 1990, Coyle was with Ford Motor Company, where he held many positions of increasing levels of leadership responsibility in Human Resources. He has a well rounded background, which includes several large-scale division start-up assignments, as well as, senior level corporate roles in Compensation, Labor Relations and Organization Development. Coyle held positions earlier in his career as a Legislative Aide to Senator R. S. Schweiker (R-PA) and an intern at the Equal Employment Opportunity Commission.
Coyle is viewed as a skilled executive with a solid Human Resource background and proven effectiveness for decision making and operational understanding. Mr. Coyle holds a B.S. degree in Business Administration and Marketing from The American University and has extensive MBA graduate studies at Temple University, George Washington University, University of Houston and University of California. Coyle also attended the Defense Systems Management College where he was awarded their Certificate in Systems Acquisition Management
Locally, Coyle has served as Chairman of Southern Arizona Leadership Council, Arizona Chamber of Commerce and the United Way's Alexis de Tocqueville Society, as well as, additional Board memberships on many organizations such as American Electronics Association, United Way, Tucson Chamber of Commerce, Pima County Workforce Investment Board and Greater Tucson Economic Council. Coyle has been on numerous state and national governmental task forces.