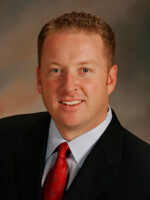 Kevin Stockton
Regional President & Market CEO
Community Health Systems
Kevin Stockton is Regional President & Market CEO of Community Health Systems, a 300-bed hospital in Tucson, Arizona.  He is responsible for the operations and strategic management of the facility and off-campus locations including five urgent care centers, two ambulatory surgery centers, the Northwest Allied Physicians practice, Desert Cardiology of Tucson and Heart Center of Southern Arizona.
Stockton has held a variety of leadership positions in hospital administration for more than 15 years, including as CEO of Valley Hospital Medical Center in Las Vegas, a 404-bed academic medical center.  His background includes strategic planning, physician recruitment and relations, commitment to employee satisfaction and a dedication to providing high-quality, safe patient care.  During his tenure in Las Vegas, NV, his success includes grew patient volumes, improved quality measures, patient safety and customer service.
Prior to his position at Valley, Stockton was CEO at Tempe St. Luke's Hospital in Tempe, Arizona.  In that role, he developed several key hospital services including a Wound Care Center, Sleep Lab, Pain Medicine Center and Bariatric Surgery program.
As a graduate of the University of Arizona with a Master's Degree in Public Administration (and a focus on Healthcare Policy & Administration), Stockton's roots are in Tucson.  He and his wife Leslie both grew up in Tucson and are happy to be raising their two children here.