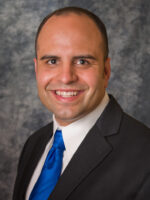 Mark Montoya
Interim President & CEO
Community Foundation for Southern Arizona
Mark Montoya is the Vice President of Operations for the Community Foundation for Southern Arizona and is currently serving as Interim President/CEO.
As Vice President of Operations, Mark is responsible for the operational execution of our strategic plan, data systems, and management oversight of the Community Foundation Campus. He provides staff leadership and support to CFSA's geographic affiliate the Santa Cruz Community Foundation and is CFSA's partner representative for Social Venture Partners Tucson.
Mark joined CFSA in 2012 as Operations Manager to complete and manage CFSA's data systems conversion.  Since then, he has taken on increased responsibility and now oversees all operations for CFSA. Mark has earned his increased leadership responsibilities through his commitment to detailed planning coupled with an inclusive management style that is valued by CFSA's staff, board of trustees, and donors.
Mark has over 20 years of administrative and management experience in both the for profit and nonprofit sector.  Prior to joining CFSA, Mark worked for Rain Bird Corporation, where he held various positions managing and administering their Rain Bird Academy training program, the leading international irrigation training program.  An Arizona native, Mark holds a B.A. in Communication from the University of Arizona and is a proud graduate of Nogales High School in Nogales, AZ.
Over the course of his career with CFSA, Mark has become a leader in Community Foundation field and has presented at national conferences on community foundation IT infrastructure and has developed ties with other community foundation professional across the country.  Mark also serves on the National Standards Board for US Community Foundations responsible supporting their accreditation program for the Community Foundation sector.
Mark is passionate about developing and executing operational efficiencies to support our donors and enhance CFSA's community impact.  Away from the office, Mark, his wife, Stacey, daughter, Chloe, and pup, Minnie, try to get outdoors and enjoy the fresh air as much as possible.