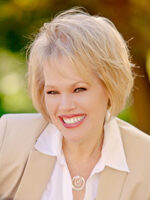 Mary Jacobs
Town Manager
Town of Oro Valley
Mary Jacobs served more than 17 years in Sierra Vista as the city's chief operating officer, supervising all non-public safety operational departments and services including: the library, leisure and recreation, planning, building inspection, fleet and facility maintenance, parks and grounds maintenance, streets, engineering, capital planning, wastewater, refuse, transit, the airport, economic development, intergovernmental relations, marketing and public affairs.
Jacobs is an active member of the International City/County Management Association (ICMA), and served as vice president on its Executive Board from 2012 to 2014, as chair of the Membership Committee and board liaison to the Task Force on Women in the Profession. Jacobs is also a member of the Arizona City/County Management Association (ACMA), where she was elected to the Board of Directors from 2003 to 2008, serving as president during her tenure. In 2009, she was honored as the recipient of the prestigious ACMA Catherine Connelly Award for Outstanding Assistant City/County Manager.
From 2011 to 2014, Jacobs was appointed by the Secretaries of Interior and Agriculture to serve on the national Wildland Fire Executive Council as the official representative of the National League of Cities, a body established to oversee development of a national cohesive strategy on wildfire mitigation and management.
Jacobs holds a bachelor's degree in political science and a master's degree in public administration from the University of Arizona. She grew up in Tucson where her parents and many family members still reside. Jacobs has one daughter, Rachel, who attends Loyola University Chicago.