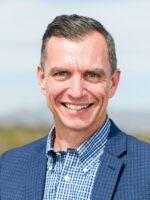 Ryan Hartman
President & CEO
World View
Ryan M. Hartman is the President and CEO of World View, a provider of earth observation and remote sensing products from the stratosphere. Hartman comes to World View after having served as the President and Chief Executive Officer of Insitu, a pioneer in the design, development and manufacturing of high-performance, low-cost unmanned aircraft systems. Hartman was previously the Senior Vice President, Insitu programs, and before that, the Senior Vice President of Business Development, responsible for the company's sales, marketing and product development efforts. He came to Insitu from Raytheon, where he led the Unmanned Systems directorate of the Advanced Programs division.
He serves on the Board of Directors for the LuMind Foundation, an organization committed to advancing Down syndrome cognition research. He also serves on the Board of Directors for the Northeast UAS Airspace Integration Research Alliance (NUAIR); a non-profit organization that manages facilities and airspace for testing UAS to ensure the safe integration of UAS into the National Airspace System. Hartman also served as the UAS Representative on the FAA Next Gen Advisory Committee and on the FAA Drone Advisory Committee.
Hartman is a veteran of the U.S. Air Force and U.S. Navy, and a graduate of Embry-Riddle Aeronautical University.