Increased Weight Allowances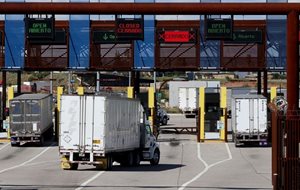 The Arizona Department of Transportation (ADOT) has increased weight limits between Nogales and Tucson from 80,000 lbs. to 83,000 lbs. In addition to the efficiency of expanded lanes at the Mariposa Port, the increased weight allowance will allow more companies to utilize the facilities in the Tucson region and increase commerce-related efficiencies. (Photo: www.mexico-now.com)
Workforce Advantages
The Hispanic community in Arizona has experienced tremendous growth allowing the state to be identified as one of the fastest growing states in the nation during the last decade. Hispanics represent over a third of the total population and almost two million people. The Tucson area contains 470,000 Hispanics, making up 39% of the population. The largest percentage of the region's Hispanics are under 17 years old which means the percentage of Hispanics overall in the Tucson region will continue to grow. The workforce throughout the region is diverse and contains many bilingual speakers, a competitive advantage for companies seeking language skills. (Source: Hispanic Market Outlook, Hispanic Chamber of Commerce, 2019)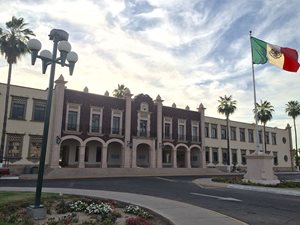 Sonora ranks 4th nationally (Mexico) for the number of students enrolling for higher education each year. There are 44 universities, 14 technological institutes, and 83 technical schools throughout Sonora. There are a great variety of majors in business and engineering offered at these facilities (there are 47 different engineering routes). The main institution of higher education is the University of Sonora, and there are two campuses of the ITESM (Monterrey Institute of Technology). The quality of education is above the national average—Sonora allocates more than 50% of its budget to education.
Companies can effortlessly locate authorized recruits trained in international quality control systems, as well as being bilingual (English and Spanish). The skilled workforce with a median age of 23 is extremely beneficial to investors.
Infrastructure Advantages
Nogales is the largest port of entry in Arizona and close to 40 percent of all fresh produce consumed in the United States during the winter makes its way through the Nogales Port of Entry alone.
Nogales connects Arizona State Route 189 to Mexico 15, which has moved fresh produce from Sinaloa to U.S. markets for many years.
The Arizona and Sonora trade corridor requires good rail connections in order to fully benefit from possible container traffic into the revamped Port of Guaymas in Sonora.
The Maquiladora/IMMEX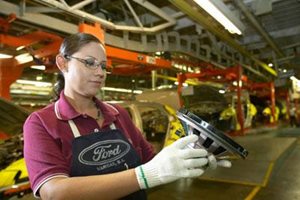 The Mexican IMMEX program, which includes maquiladoras, is an important market for Arizona exports.
Arizona's closest neighbor, Sonora, has about 163,000 employees in the IMMEX sector, of which 70% are in manufacturing.
The automotive industry in Hermosillo is one of Sonora's manufacturing pillars and one of Mexico's leading automotive industry production centers.
The emerging aerospace sector in the Empalme/Guaymas area strengthens the Arizona-Sonora transborder aerospace industry cluster.
The CANAMEX Corridor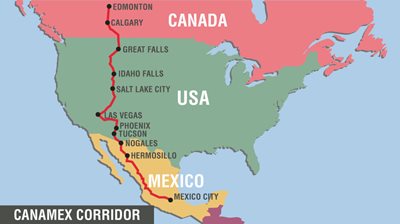 The CANAMEX Trade Corridor Project provides a unique and distinctive economic opportunity for Tucson and for the State of Arizona. The purpose of the project is to maximize the free trade opportunities between Mexico, Canada and the United States by developing the corridor's physical and technological infrastructure from Nogales to Tucson via I–19, Tucson to Phoenix via I–10, then north through Nevada, Utah, Idaho, and Montana to the Canadian Border.