Of the 47 international crossings present between the United States and Mexico, nine are between Arizona and Sonora. These nine crossings are organized into six ports of entry. In addition, Arizona has two other ports of entry not located along the border: Phoenix and Tucson. Nogales is Arizona's busiest port of entry, particularly for commercial traffic.
Mariposa Port of Entry (Nogales, AZ)

The Port of the Future is here NOW in Nogales. The $244M expansion and modernization of the Mariposa Land Port of Entry is completed. Everything in the port is designed to increase the speed and accuracy of processing and to minimize delays at this, the fourth-busiest land port of entry into the United States. The Mariposa Port will have the shortest wait times on the U.S.-Mexico border. Instead of the seven-hour wait times of past years, Mariposa wait times have dropped to around one hour.
The new and improved Mariposa Port has additional staff. Of the 2,000 new Customs officers authorized nationwide in the most recent federal budget, 170 of those officers have been allotted to Arizona with 120 of those officers destined for Nogales. State-of the art infrastructure and more personnel mean cost savings and decreased expenses. Efficiencies in moving trucks across the border result in savings in fuel, product quality and time. Nogales is the best location for just-in-time delivery for Mexico's West Coast supply chain. Nogales is the only place where the U.S. I-10/ I-19 corridor meets the ever-growing commerce on Mexico's Highway 15.
Raul Hector Castro Port of Entry (Douglas, AZ)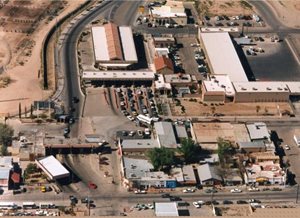 The Douglas, Arizona Port of Entry has been in existence since about 1914. The current border inspection station was built in 1933, and was significantly renovated and expanded by the General Services Administration in 1993. The crossing is open 24 hours per day,7 days per week. In 2015, this facility was renamed the "Raul Hector Castro Port of Entry." The Port accounts for nearly $4 billion in trade through two-way truck traffic, which has grown by 5% a year since 2010.