Aerospace Manufacturing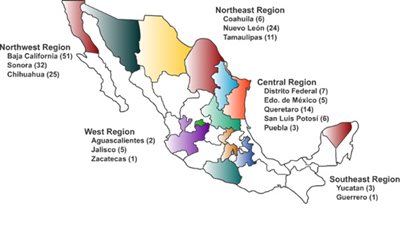 Aerospace manufacturing has grown tremendously over the past 15 years. According to PricewaterhouseCoopers (PWC), the Gross Domestic Product of the aerospace manufacturing sector in the country grew more than 20 percent each year over the past five years. A large part of this growth is attributed to the country's open trade policies.
Beyond open trade, the boom in this industry is thanks to the government's investment in its growth as well as the country's educated workforce. The Mexican government has taken major strides toward encouraging manufacturing activity, starting with its decision to sign on to NAFTA followed by a series of reforms. The Maquiladora system, which provides companies more control over the cost and transport of expensive aerospace manufacturing materials, coupled with the high number of engineers the country produces each year, means the sector is likely to grow for years to come. Guaymas and Empalme are two excellent locations for aerospace manufacturing in Mexico. (Map: offshoregroup.com)
Major Companies – GE, Honeywell, Rolls Royce, Pratt & Whitney, Boeing, and Airbus.
(Source: The Offshore Group – http://offshoregroup.com/industries/)
Automotive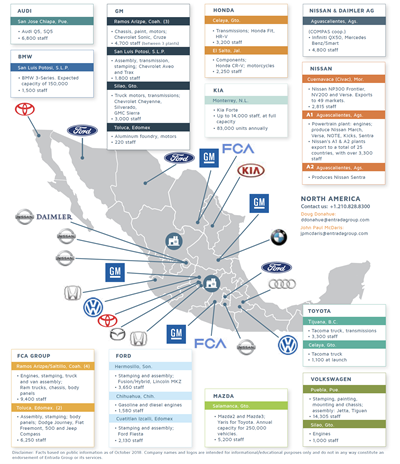 Automotive manufacturing has led the way in Mexico's economic growth over the past ten years, driving more than $20 billion in investments. Location is a primary reason so many auto companies have chosen to move their operations to Mexico. The country is strategically located close to the U.S., and its western ports allow OEM manufacturers and Tier 1 and Tier 2 suppliers to export goods to Asia, Australia and New Zealand. As a result, Mexico provides a desirable supply-chain solution for manufacturing countries across the world. In fact, many Chinese automakers have moved their production to Mexico to deliver their products to high-end markets more efficiently.
Today, automakers including Chrysler, Ford, General Motors, Mazda, Honda, Nissan, Toyota and Volkswagen all have a major manufacturing presence in the country.  Automakers considering manufacturing in Mexico should explore Saltillo as a location to get started. (Map: entradagroup.com)
Metal Fabrication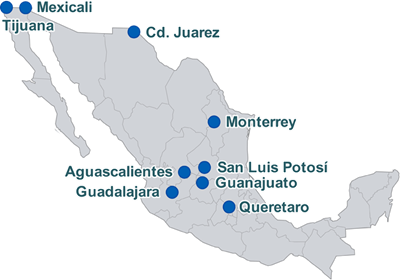 Local aptitude exists of CNC machining, sheet metal fabrication, coating, and design. The local metal mechanic shops are brokers for national and international companies. Graduates from technical institutes and universities are available for designing and production, indoctrination of CNC equipment, and creating solutions for specific problems or needs. The main processes for the industry are stamping, punching, folding, cutting, welding, and machining. Inside Sonora, there is a profusion of proficiency for practically every facet of metal mechanic production.
Major Companies – Master Lock, Acco, Weiser Lock, Moen, Otis Elevator, APSM, and others.
(Source: The Offshore Group – http://offshoregroup.com/industries/)
Mining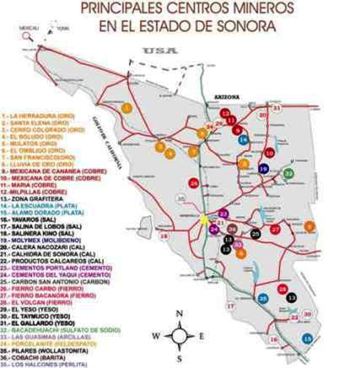 The mining industry creates roughly 14,000 jobs in Sonora. Over 5,000 mining allocations exist in an area of more than 23% of the state. Sonora ranks first at the national level in the mining sector and first at the national level in geological diversity, the most ancient rocks, and the production of gold, copper, graphite, Wollaston, molybdenum, and anthracite coal. Sonora has the largest copper and Wollaston reserve in the world. (Map: Border Lines)
Major Companies – Grupo Mexico, Grupo Peñoles, Grup FRISCO, Arcelor-Mittal, Minas de Oro Nacionales, Minera Corner Bay, Molymex.
(Source: The Offshore Group – http://offshoregroup.com/industries/)
Electronics
Electronics manufacturing is a major industry in Mexico that has garnered $14 billion in investments over the past 15 years. Electronics manufacturers need look no farther than Jalisco, Guadalajara, which is home to more than 380 specialized component suppliers, 14 electronics manufacturing services companies and 12 OEMs. The state exports roughly $150 billion in finished goods annually, and the sector as a whole employs more than 50,000 Mexican workers. The Mexican government's dedication to investing in infrastructure and education will allow the industry to thrive long-term.
Major Companies – EE Tecnologies, Inc. Tyco Electronics, AMP Amermex, Arrow Electronics, Amphenol Alden Products, EDS International, Lanix, Magnetic Metals, ITT Canon de Mexico, and others.
(Source: The Offshore Group – http://offshoregroup.com/industries/)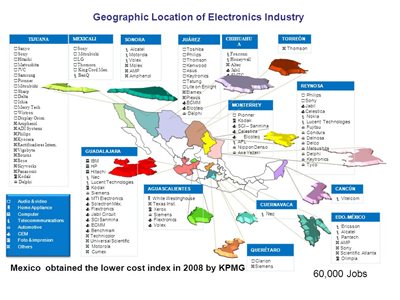 Medical Device Manufacturing
According to Mexico's Ministry of Economy, the Boston Consulting Group and ProMexico, Mexico is the third largest medical device exporter in the world, the second-largest market in Latin America and the leader supplier to the U.S. A competitive alternatives study for medical device manufacturing in Mexico was performed by KPMG in 2010 and concluded that Mexico offers a cost advantage of over 20%, and close to four times the after-tax profit, compared to manufacturing in the U.S. This is just one reason companies in the medical device manufacturing industry such as, Smiths Medical, Cardinal Healthcare, Johnson & Johnson, GE Healthcare, TYCO, Medtronic, Baxter, Greatbatch, and Welch Allyn have expanded their manufacturing footprints to Mexico. (https://napsintl.com/manufacturing-in-mexico/industries-in-mexico/medical-device-manufacturing-in-mexico/) Mexico has positioned itself to experience sustained growth in this industry for years to come. For manufacturers considering Mexico for their medical device production, Guaymas boasts a robust workforce with experience in this particular field.
(Map: americanindustriesgroup.com)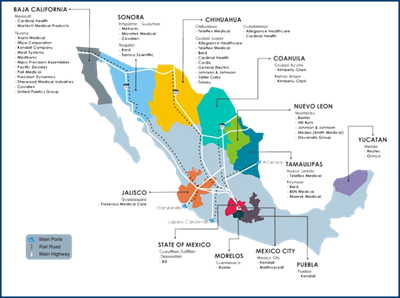 Major Companies – Avalon Laboratories, Tyco Electronics—Precision Interconnect, Novacap Philips, Becton Dickinson, Medtronic, ITT
(Source: The Offshore Group – http://offshoregroup.com/industries/)
Information Technology Resources
The IT industry in Sonora has been persistently growing over the past years with the intention of creating an internationally competitive software industry. The state currently ranks 4th on a national scale as leader in the IT services in Mexico. There are currently more than 23,000 students enrolled in engineering/technical programs and over 7,000 students enrolled in IT programs. There is a large government program to help companies set up their operations in the state.
Major Companies –  Vangtel, ACS, Tiempo Development, Nearsoft, and others.
(Source: The Offshore Group – http://offshoregroup.com/industries/)