Senior Living at Dove Mountain to Begin Construction On First Arizona Location
Update:
The senior living facility has been renamed from "Dove Mountain Senior Living" to "La Sonora at Dove Mountain". The name was chosen as La Sonora is a Spanish name that is derived from The Sonoran Desert and reflects the tie to the community where the senior living community resides.
See below for images of the construction progress on the facility (June 2019).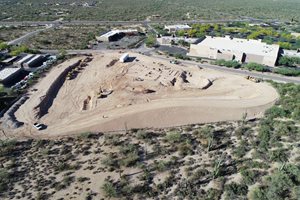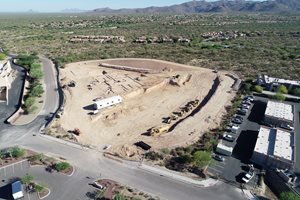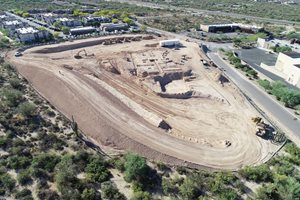 ---

Media Contacts:
Don Sterhan, Managing Partner

Dove Mountain Residences, LLC

(406) 254-1677 or

Laura Shaw, Sr. Vice President

Sun Corridor Inc.
Senior Living at Dove Mountain to Begin Construction
On First Arizona Location
Next-Generation Facility, With Nearly 70 Jobs, Coming to Marana in 2020
BILLINGS, MT (April 15, 2019) — Dove Mountain Residences, LLC announced today its plans to build a state-of-the-art senior living facility in Marana, Arizona. The groundbreaking will take place in May 2019 and the community is scheduled to open in late spring of 2020.
Senior Living at Dove Mountain is comprised of over 151,000 sq. ft. of building space, arranged in a multiple 2- and 3-story building format, surrounding a large common area center core on a 5.88-acre campus. Senior Living at Dove Mountain will consist of 44 Independent Living (IL) units, 74 Assisted Living (AL) units and 24 Memory Care (MC) units attached to over 50,000 sq. ft. of common areas and amenities.
Additionally, the project will feature a comprehensive landscaping plan that will include several features influenced by the local culture/geography, walking paths, gardens and a center courtyard area available to all residents of the community.
Offering a continuum of housing and care for seniors, the new facility will support aging in place, in a vibrant social setting at an affordable rent level.  It is anticipated lease-up of this new facility will begin no later than 6 months prior to the scheduled opening. The project will have a total economic impact of $54.5 million over the next 10 years.
'With a full service, multifaceted senior living project of this size, this new community at Dove Mountain will employ over 65 full-time equivalent management and staff members in administrative, nursing care, food & beverage, sales and activities, maintenance, housekeeping and various other supporting roles," said Don Sterhan, managing partner, Dove Mountain Residences LLC.  "We're very excited to have the opportunity to open our first Arizona location, in the growing Town of Marana.  This is a new market for us and we look forward to becoming a part of the community in Southern Arizona."
"The presence of a senior living community at Dove Mountain will deepen our healthcare assets," said Joe Snell, president and CEO of Sun Corridor Inc. "Successful economic development requires close teamwork and cooperation from all corners of our region and state. The Town of Marana, Pima County and Arizona Commerce Authority contributed greatly to this win."
"We are very excited to have another quality project break ground within the Town of Marana," said Mayor Ed Honea, Town of Marana. "Senior Living at Dove Mountain provides another option for our residents in the north Marana area, and we welcome them to our community."
"Congratulations to Senior Living at Dove Mountain on its expansion. Over the next few decades as the Baby Boom generation continues to age, it will be essential for our community to have more outstanding care facilities such as this," said Pima County Administrator Chuck Huckelberry.
"Quality of life is important to all Arizonans," said Arizona Governor Doug Ducey. "I thank Dove Mountain Residences LLC for investing in care for our seniors and Arizona."
"This facility will provide Southern Arizona senior citizens with a convenient housing option close to desired amenities," said Sandra Watson, president and CEO of the Arizona Commerce Authority. "We thank Dove Mountain Residences LLC for this investment in Marana, which will create new jobs in the region."
For more information, visit www.dovemountainseniorliving.com