Renewable & Mining Technology
Copper mining has been an important part of Arizona's economy for more than a century. More than 66% of the nation's copper comes from Southern Arizona*.
FAST FACTS
Tucson has one of the fastest growing technology workforces in the U.S. over the last ten years, increasing by 33%.
(Oliver Wyman Forum 2019)
Caterpillar Tucson Proving Grounds & Tinaja Hills




Demonstration & Learning Center

Komatsu Arizona Proving Grounds
There are over 600 graduates* from the UA College of Engineering that work to support the mining industry, which provides over 38,000 direct and indirect jobs** in Arizona.
While Southern Arizona is already well known for its abundant sunshine, the region is also becoming known for its abundant human capital, state of the art research and development, ample supply chain opportunities and competitive operating costs. This translates into opportunity – from sunrise to sunset – for any company wanting to take advantage of renewable and mining technology.
Copper mining has been a major industry for Arizona since the 19th century. Sixty percent of the nation's copper comes from Southern Arizona. The copper mined in the region is sold principally outside of the state, bringing money into our economy. Jobs in the mining industry produce higher wages than service sector jobs.
Southern Arizona produces 60% of the nation's copper.
Renewable Energy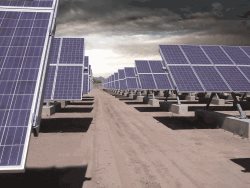 Recognized globally as a location of choice for solar energy activities, Southern Arizona's emerging solar industry promises a bright future. The region has valuable resources for technology development, manufacturing and solar power generation.
The University of Arizona Science & Technology Park is a 1,345 acre site with nearly 2 million square feet of office, engineering and laboratory space developed. Tech Parks Arizona is focused on developing innovation hubs that unite industry and research to advance leading-edge technology. One of the key initiatives underway is the Solar Zone at the UA Tech Park. The Solar Zone is one of the largest multi-technology solar testing and evaluation sites in the United States.
Phase one of the Solar Zone is an innovative strategic partnership between The University of Arizona and Tucson Electric Power. All solar power generated in the Solar Zone is used by Tucson Electric Power to expand its renewable energy resources in Southern Arizona. The power generated is from eleven companies using different solar technologies producing a total of 25 MW of power.
Power generation and distribution are only one component of the Solar Zone. Equally important is research and development. The Solar Zone is designed to provide university and industry researchers with the ability the evaluate various technologies as they perform side by side, under identical operating conditions, so developers may determine when systems are most efficient and economical for the company and Southern Arizona. University of Arizona researchers are testing everything from solar power forecasting to the environmental impact of solar energy installations.
Workforce

Much of Tucson's highly-skilled workforce is a product of targeted education programs at The University of Arizona and Pima Community College. These institutions offer tech-transfer opportunities and direct access to highly-skilled graduates.
The University of Arizona, one of the nation's top 20 public research institutions, features world-class research in many diverse fields including engineering, environmental science and alternative energy. With an enrollment of over 45,000 students, many involved in ongoing research, the university provides a stream of experienced and skilled bachelor's, master's and doctoral graduates.
Pima Community College is an open-admissions, comprehensive, and multi-campus community college that serves more than 40,000 students annually. The college plays an important role in economic development, with established relationships with approximately 700 employers including advisory committees, employer-sponsored education and training, customized workforce development solutions, work-based learning and apprenticeships, upskilling and retraining, certificates and degrees to meet employer needs, and more. 
Employers
With strong local support and an ideal climate, the Tucson region is emerging as a location of choice for many companies in the alternative energy and natural resources industry. Currently there are about 35 established solar companies in the region, providing a range of services including manufacturing, installation, distribution, etc. Several solar manufacturers have recently made headlines in Tucson as they announced plans to locate or expand in the region. There are about 24 mining companies throughout Tucson & Southern Arizona employing approximately 8,500 people.
Major Employers