TQL Expanding Arizona Footprint With New Tucson Office

Total Quality Logistics
Julia Fulton
Corporate Communications Manager
(513) 831-2600  x57248
jfulton@tql.com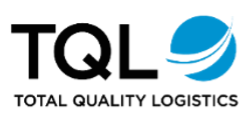 TQL Expanding Arizona Footprint With New Tucson Office
Cincinnati, OH (Nov. 13, 2023) — Total Quality Logistics (TQL), the second-largest freight brokerage in North America and one of the largest global third-party logistics firms, is expanding its presence in Arizona with a new office in Tucson.
The expansion reinforces TQL's investment in Arizona, the company opened its Phoenix office in 2016 and employes more than 100 team members at that location. Tucson is TQL's 57th location nationwide. The company is currently hiring for Entry Level Sales in the Tucson office. Visit TQLjobs.com to apply.
"We've been in the state of Arizona for seven years and are proud to grow our team and deepen our commitment with this office in the incredible and unique Tucson community," TQL President Kerry Byrne said. "We chose Tucson because it is a major transportation hub and has a great pool of talent. We're excited to be part of such a vibrant and growing city."
TQL joins a growing list of Transportation and Logistics companies in Tucson and Southern Arizona serving over 45 million people in a 500-mile radius. The city is home to the Port of Tucson, a neutral transportation facility on over 770 acres of land featuring a 1.8 million-square-foot intermodal, foreign trade zone warehousing and logistics complex.
"I am happy to welcome Total Quality Logistics to our City," said Tucson Mayor Regina Romero. "Transportation and Logistics is Tucson's fastest-growing cluster. Our strategic location near the Mexican border and proximity to Phoenix and California, combined with the availability of workforce talent, and the beauty of the Sonoran Desert are just some of the reasons why companies like TQL are choosing Tucson as the place to grow their business."
TQL connects customers with shipping needs and carriers with available capacity and service offerings. The company, founded in Cincinnati, Ohio in 1997, works with 160,000-plus carriers to create greater supply efficiencies for its customers and offers a comprehensive portfolio of logistics services.
"Pima County is a perfect location for a third-party logistics provider to call home thanks to our multimodal transportation hub and access to international markets," said Jan Lesher, Pima County Administrator. "We want to thank TQL for recognizing the value of living and working in Pima County and Southern Arizona. I welcome them to the community with open arms and we look forward to working with a market leader in the logistics industry."
TQL leased 7,000 square feet of office space on 4801 East Broadway Blvd. for its Tucson office and recently welcomed its first New Hire class.
"TQL joins HomeGoods, Amazon, Home Depot, Target and over 100 other companies operating in the logistics sector in Southern Arizona," said Joe Snell, president & CEO, Sun Corridor Inc. "With excellent infrastructure for ecommerce and trade to serve growing markets across the west, Tucson is the center of these companies' long-term strategic plans."
"We are excited Total Quality Logistics has chosen to expand its presence to Tucson," said Sandra Watson, president & CEO, Arizona Commerce Authority. "With a growing population, proximity to global markets and robust transportation and logistics industry, Tucson is an ideal location to support TQL's new office."
About TQL
Total Quality Logistics (TQL) creates greater supply chain efficiencies for our customers by combining industry-leading technology with unmatched customer service. Customers and carriers turn to us daily to solve their transportation needs with competitive pricing, continuous communication and a commitment to do it right — every time. Through our comprehensive portfolio of logistics services and network of 160,000+ carriers, we move 3 million loads of freight annually. Our company and employees make the world a better place by donating thousands of volunteer hours and millions of dollars each year through TQL Cares and the TQL Foundation. We are proud to be the naming rights sponsor of TQL Stadium, home of Major League Soccer's FC Cincinnati. Founded in 1997 in Cincinnati, Ohio, TQL is one of the largest logistics firms in North America, with 9,000+ employees in 56 offices across the U.S. Learn more at TQL.com.
###