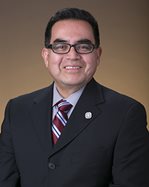 David Adame
President & CEO
Chicanos Por La Causa
David serves as President and Chief Executive Officer of Chicanos Por La Causa, Inc. (CPLC). Prior to being appointed President and CEO, David served as CPLC's President and Chief Economic Development Officer responsible for managing the economic development arm of the organization in Arizona, Nevada, and New Mexico, including overseeing property management, real estate & commercial development, single and multi-housing services, housing counseling services, small business lending, employment services, and social ventures. Prior to this appointment, he served as CPLC Chief Operating Officer and Chief Financial Officer.
CPLC is a regional community development corporation with more than 40 years of experience serving communities in the areas of Education, Economic Development, Housing and Health and Human Services. CPLC is the third largest non-profit in the County.
He has more than 20 years of operational management experience in both for-profit and non-profit environments. Prior to joining CPLC, Adame served as Vice President of Arizona Operations for McCormack Baron & Salazar. Adame was responsible for overseeing the firm's role in Henson Village, a HOPE VI project located in Phoenix, Arizona that is funded in part by a $35 million grant from the U.S. Department of Housing and Urban Development. This 611-unit mixed-income/mixed-financed residential development has a total development cost of $115 million.
Prior to joining McCormack Baron & Salazar in 2003, Adame was the Senior Deputy Director of Fannie Mae's Arizona Partnership Office. Working in tandem with the Director, Adame was responsible for implementing "HouseArizona," a five-year, $15 billion investment plan to finance affordable housing throughout the state.
David also spent three years as Program Officer with the Phoenix Office of the Local Initiatives Support Corporation (LISC), where he managed the HOMESTART program, a for-sale affordable housing development project. He also worked for Bank One Arizona for eight years, managing and underwriting residential and commercial loans.
Adame is chairman of the Arizona Housing Commission, a position appointed by the Governor of Arizona. He holds a B.S. in Business from Arizona State University (ASU) and an MBA from the ASU School of Global Management.