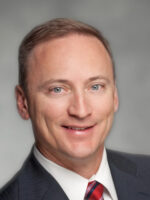 David G. Hutchens
President & CEO, Fortis Inc.
David G. Hutchens is Chief Executive Officer and President of Fortis Inc., overseeing its ten North American utilities.
Hutchens has been with UNS Energy for 24 years. He advanced through various management positions overseeing wholesale energy trading and marketing and, in January 2007, was named Vice President of Wholesale Energy and UNS Gas, an operating subsidiary of UES. He became Vice President of Energy Efficiency and Resource Planning in May 2009, rose to Executive Vice President in March 2011 and was named President in December 2011 before adding the CEO role in May 2014.
He earned a Bachelor of Aerospace Engineering and a Master of Business Administration from the University of Arizona and is a former nuclear submarine officer in the U.S. Navy.
Hutchens joined the Board of Directors of UNS Energy in December 2013, the FortisBC Board of Directors in January 2015, and the FortisAlberta Board of Directors in July 2016. He serves on the Board of Directors of Industry Associations Edison Electric Institute and Western Energy Institute. He is also the Board Chair of Southern Arizona's economic development organization, Sun Corridor, Inc. and is a member of the Southern Arizona Leadership Council and Salpointe Catholic High School Board of Directors.
He is a native of Minneapolis, Minnesota.