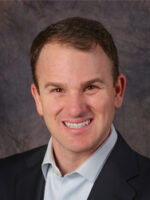 Jeremy Sharpe
President, Sharpe and Associates, Inc.
Managing Partner, Rancho Sahuarita
Tucson native, Jeremy Sharpe oversees operations of Sharpe and Associates, inc., a four-decade old second generation family operation focused on the development and management of real estate investments and projects, including master planned communities, land development, commercial development/management, and community management. Sharpe and his team lead the development of Rancho Sahuarita, an award-winning 3,000-acre master plan community located in Southern Arizona.
Sharpe is passionate about sustainability and building impactful places. He is an active member of the Urban Land Institute (ULI) – the leading think tank on sustainable land use – Young Presidents Organization and the Housing Innovation Alliance. Sharpe was named one of Urban Land Magazine's 2016, 40 under 40 Global Business Leaders, and a 2022 "Next Gen Leader" by BizTucson.
Sharpe speaks frequently at national conferences about real estate and community development. Locally, he is involved with Southern Arizona Leadership Council, and serves as a Board Member for the Banner Health Foundation and for the Jewish Philanthropies of Southern Arizona (JPSA).
Sharpe received his Masters in Business Administration from the Eller College of Management at the University of Arizona.