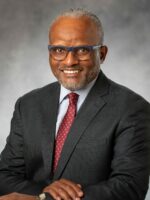 Tony Penn
President & CEO
United Way of Tucson and Southern Arizona
Tony currently serves United Way of Tucson and Southern Arizona as its president and CEO. United Way positively impacts the lives of more than 200,000 children, families, and seniors throughout Southern Arizona each year. He is known to be a dynamic visionary leader with a strong equity lens towards guiding organizations in achieving mission focused goals, and objectives. As the chief advocate and spokesperson for United Way, Tony leads the charge to champion positive data-driven performance.
Before joining United Way, Tony served as a Senior Executive for the YMCA of Greater San Antonio for 9 years. Tony has also held positions in the for-profit sector, as a Principal Systems Engineer with Teradyne Corporation, advancing to the position of Regional Manager. He is also an Air Force veteran.
Tony holds a B.A.S. Degree with a specialization in Electronic Systems Technology and Christian Studies, from Wayland Baptist University. He is also a graduate of the University of Texas in Non-Profit Leadership, and Harvard Business School with a certification in Governing for Non-Profit Excellence. Tony has received recognition for his service to the community on the floor of the U.S. Congress in 2013, and 2015. He also served as Chair of the Board of the Tucson Chamber of Commerce in 2015. In 2018 he was honored as a Father of the Year by the Tucson Father's Day Council. Most recently, Tony was recognized by Greater Tucson Leadership with the 2021 Man of the Year Award for contributing significant time, energy, spirit and leadership, making a positive impact on the quality of life in the community.