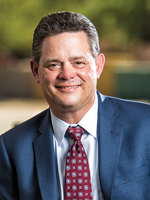 Joe Snell
President & CEO
As the first President & CEO of Sun Corridor Inc., Joe Snell brings over 30 years of experience leading regional private economic development organizations in communities of various sizes. His knowledge on building strategic, competitive and balanced economic development efforts have resulted in Snell being nationally recognized for creating strong economies.
Sun Corridor Inc. is a transformative economic development organization representing Southern Arizona. Under Snell's leadership, Sun Corridor Inc. has helped facilitate significant investment and job creation resulting in an economic impact of $25 billion to the regional economy. In 2015, Snell led the re-engineering of the organization resulting in a name change, new brand and expanded mission.
In his previous position as President of the Metro Denver Network, Snell developed critical infrastructure and strategies that resulted in Metro Denver being recognized as one of the fastest growing markets in the United States. Snell has established new economic development corporations and reengineered struggling organizations in several communities in the Southwest and Midwest.
Snell is a frequently requested speaker and lecturer on economic development and competitive issues. He is a former faculty member of the Arizona Economic Development Course and the International Economic Development Council. Snell is a regular contributor to various international and national media publications.
In 2019, Snell received the Global Visionary Award from BizTucson Magazine. Snell was named Father of the Year by the Father's Day Council Tucson in 2019. In 2017 and 2018, Snell was recognized by Arizona Business Magazine for his leadership and contributions to the Arizona economy. The Arizona Economic Development Association has recognized Snell for "Deal of the Year" on two occasions in the last five years.
On March 28, 2002, Governor Bill Owens of Colorado honored Snell by proclaiming the day as Joe Snell Day throughout the state. Snell was named as Economic Developer of the Year in 1999 by the Economic Developers Association of Colorado.
Snell holds a bachelor's degree from the University of Nebraska. He is married and has three children.