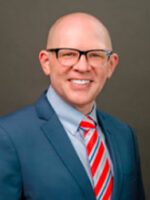 Brian Heithoff
CEO and General Manager
Trico

Brian Heithoff has been Trico Electric Cooperative's CEO/General Manager since April 2021.  Trico is a non-profit electric distribution cooperative serving 50,000 Members in communities surrounding the City of Tucson, including portions of Pima, Pinal, and Santa Cruz counties.
The majority of Trico's market area is to the west of Tucson and spans approximately 66 miles east to west and 80 miles north to south, extending to the border with Mexico.  Trico's headquarters are in Marana with a service center in Sahuarita.  As Trico's chief executive, Brian oversees $300M in utility infrastructure and $110M in revenues.
Mr. Heithoff has worked for electric cooperatives for more than three decades, including 23 years as a CEO. Prior to Trico, he has served for 10 years as the CEO and General Manager of High West Energy, Inc., which serves members in southeast Wyoming, western Nebraska, and northern Colorado, including the Warren Air Force Base in Cheyenne, Wyoming.
Prior to his service at High West Energy, Heithoff served in numerous positions in the electric co-op industry, including:
CEO/General Manager at Consumers Energy in Marshalltown, Iowa.
CFO at United Power in Brighton, Colorado.
CFO at Morgan County REA in Ft. Morgan, Colorado.
CFO at Clay-Union Electric in Vermillion, South Dakota.
Brian has four children ages 26 and 22 – he has two sets of twins.  He has also been actively involved in the communities where he has lived serving on the governing boards of local chambers, hospitals, economic development organizations, Rotary clubs, a local bank and several non-profit organizations.
Brian is a proven CEO and General Manager adept at leading innovative and team-oriented cooperative organizations. He has demonstrated leadership collaborating with employees, members, communities, and public officials.