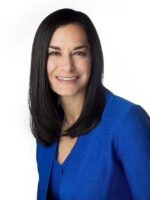 Corey Saba Basha
Senior Vice President and Commercial Banking Leader
Wells Fargo's Arizona Commercial Banking Office
As a Senior Vice President and Commercial Banking Leader of Wells Fargo's Arizona Commercial Banking Office, Corey Saba Basha manages a commercial portfolio of middle market and corporate companies. She has 24 years' experience in the banking industry in Arizona in the functions of commercial lending, business banking, and SBA lending. Corey joined Wells Fargo in 1997 and completed the company's Credit Management Training Program in 2004.
Based in Phoenix, Corey leads a team of Relationship Managers and Business Bankers who are responsible for originating, structuring and executing complex commercial middle market transactions, including but not limited to, investment banking, treasury management products, commercial lending and/or non-credit related products. In addition to managing a complex portfolio, Corey is also responsible for generating new business and bringing value added ideas to her clients.
Corey established the Women's Networking Luncheon to empower and promote women leaders in 2014. The events are meant to learn from others to improve and achieve individual goals. She was also recognized as one of the 50 Most Influential Women in Business in the State of Arizona in 2019.
An Arizona native, Corey graduated from the University of Arizona with a Bachelor of Science degree. She double majored in Accounting and Finance. She also studied the Spanish Language in Madrid, Spain. Corey earned her MBA from Arizona State University in 2002. Corey currently serves on the Board of Trustees for Summit School of Ahwatukee, and previously held positions as Board Chair and Finance Chair. She has also served on the Cardons Children's Stars of the Season Event. Corey has been involved with Big Brothers Big Sisters and other non-profit organizations.
Corey and her husband, David live in Phoenix, Arizona with their three boys, Jacob, Zachary, and Bennett.