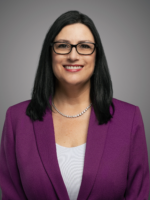 Danette Bewley
President & CEO
Tucson Airport Authority
Danette Bewley is the President and CEO of the Tucson Airport Authority. Prior to her designation as President/CEO, she was the Vice President of Operations/COO, responsible for overseeing the day-to-day operations of the Operations Division, for Tucson International Airport (TUS) and Ryan Airfield (RYN); the departments' in the Division include Airside Operations, Airport Communications, Maintenance and Custodial Services (Airfield, Landscape, Groundskeeping, Facilities, Fleet Services, and Custodial Services), Police, Security, Fire and Regulatory Programs and Compliance. She joined TAA in June 2012, as Director of Operations.
In 2013, she was promoted to Senior Director of Operations and Maintenance. In May 2014 she was promoted to the Vice President of Operations and Projects/COO, where she managed two divisions.  In 2016, when the economy improved, the two divisions were separated and her focus and title changed to operations as the Vice President of Operations/COO.  She has held management positions with the Reno-Tahoe Airport Authority, the Jacksonville Aviation Authority, and the San Diego County Regional Airport Authority.
Bewley earned her designation as an Accredited Airport Executive (A.A.E.), a professional designation earned through the American Association of Airport Executives (AAAE) and has been a member of AAAE's Board of Directors for over 10 years, and served 11 years on the AAAE Board of Examiners, including five as its chair. She currently serves on the AAAE Board, and is the Vice-Chair of U.S. Contract Tower Association (USCTA) Policy Board and Vice Chair of the Commercial Space Working Group.
Danette Bewley earned a Bachelor of Business Administration – Aviation Management degree in 1986, a Master of Arts in Management in 1988, and a Master of Public Administration in 2006, and is a licensed pilot.