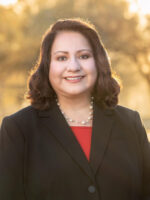 Dolores Duran-Cerda, Ph.D.
Interim Chancellor
Pima Community College
Dr. Dolores Durán-Cerda was recently appointed by the Governing Board, Acting Chancellor at Pima Community College.
For six years she has been serving as Provost and Executive Vice Chancellor for Academic Affairs at Pima Community College, where she has been leading and overseeing all academic areas for the College, while focusing on student success, community engagement and diversity, equity and inclusion.
She earned her Ph.D. in Latin American literature with an emphasis in poetry, from the University of Arizona. Dolores received a fellowship from the National Endowment for the Humanities Summer Institute, has published and translated articles, and has presented at national and international conferences on pedagogy and literature.
A seasoned educator, Dr. Durán-Cerda has over 20 years of comprehensive and increasingly responsible college-level instructional, administrative and leadership experience.