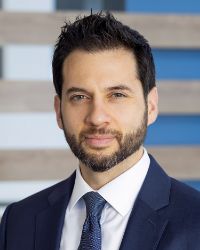 Eliezer Asúnsolo
Senior Vice President & Head of Commercial Banking, Tucson/Southern Arizona, PNC Bank
Eliezer Asúnsolo serves as Senior Vice President and Head of Commercial Banking for Tucson and Southern Arizona for PNC Bank. Prior to joining PNC in October 2021 through the acquisition of BBVA USA Bancshares, Inc., he served as a Middle Market Vice President and Relationship Manager for 10 years. Elie began his career with Compass Bank in Tucson, Arizona.
As head of commercial banking in Tucson and Southern Arizona, he leads the organization to provide customers and clients in the market with access to a full range of products and capabilities. In addition, Elie has responsibility for delivering on the bank's commitment to supporting local communities across Tucson and Southern Arizona.
Elie currently serves on the board of directors for Sun Corridor Inc., the Southern Arizona Leadership Council and the board of the Tucson Metropolitan Chamber of Commerce. Other past involvement includes serving on the boards/committees of Junior Achievement of Southern Arizona, Habitat for Humanity of Tucson, and Friends of Saguaro National Park. He also has given his time to the University of Arizona Hispanic Alumni Council and was a founding member of Tucson's Young Professionals.
Elie attended the University of Arizona where he earned a B.A. in Economics from the Eller College of Management.