Mexico is the fifth largest producer and sixth largest exporter of auto parts in the world, and the leading supplier of auto parts to the USA. The main industry in Sonora, Arizona's neighboring state in Mexico, is the automotive industry, which includes a Ford Stamping and Assembly Plant in Hermosillo (Ford's Best Plant in terms of quality and productivity) and over 44 suppliers.
In November 2016, Lucid Motors announced they have selected Casa Grande/Pinal County as the site for a new electric car manufacturing facility, with 2,000 new jobs and a $700 million capital investment.  This marks the first auto manufacturer in Arizona and demonstrates unprecedented growth in the automotive industry on both sides of the border.
Workforce
Pima Community College – Automotive Technology
Pima Community College's Automotive Technology (AUT) program prepares students to diagnose, service, and maintain a variety of vehicles. Pima's students identify and troubleshoot issues utilizing the latest in scanning technology and diagnostic equipment. Pima's program was awarded master-level accreditation through the National Automotive Technicians Education Foundation (NATEF) in 2015, and the program also serves as a training center for the National Coalition of Certification Centers (NC3).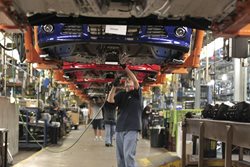 In Fall 2016, Pima's Automotive Technology program became one of 35 colleges to offer Fiat Chrysler's MOPAR Career Automotive Program (CAP) LOCAL program. The CAP LOCAL program will help Pima Automotive students become successful Chrysler, Jeep, Dodge, Ram dealership technicians. Pima's Mopar CAP LOCAL program consists of web-based training and instructor-led courses with extensive hands-on exercises and testing. Additionally, students can earn NC3 certifications in torque, metering, and diagnostics. The Mopar CAP LOCAL program covers two of the four levels of Chrysler training, specifically Level 0 and Level 1 of Levels 0-3. Level 0 web-based training provides a fundamental understanding of the role of the service technician position, explains how to access FCA systems, and shows how to use diagnostic scan tools. The instructor-led courses comprising Level 1 include engine repair and performance, chassis systems, cooling and heating, and electrical systems among other topics.
By completing Level 0 and Level 1 of the Mopar CAP LOCAL program, Pima students will be qualified to work on 90% of the issues handled by Chrysler Jeep Dodge Ram dealership technicians. The skill sets learned in the Pima program easily transfer to other manufacturers and provide a sound foundation to a career in the automotive service industry.