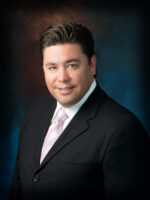 Jaime Chamberlain
Chairman
Greater Nogales and Santa Cruz Port Authority
Founded in December 2004.
Brings together key stakeholders from the area to address improving Arizona's largest port facilities, streamlining the crossing process at the Nogales ports of entry and enhancing economic development in the Nogales-Santa Cruz County region.
The Mariposa Port of Entry in Nogales processes 600,000 commercial vehicles annually, which equates to $30 billion in imports into the U.S.and $11 billion in exports into Mexico.