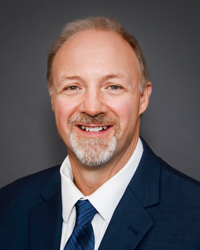 Jeff Wilkins
Town Manager
Oro Valley
Jeff has dedicated his career to local government for 27 years. He proudly served communities in Illinois, Michigan, Indiana, and Ohio in roles as County Administrator, City Manager, Assistant Town Manager and Director of Administration & Treasurer. He served communities during fast growth, slow growth, and redevelopment. All positions required his leadership in strategic planning, intergovernmental relations, economic development, capital planning, budget and finance, team building and HR/staff development.
His long tenure of 15 years as County Administrator of Kendall County, Illinois (40 miles southwest of Chicago) was when the County had the fastest growth rate per US Census Bureau. His service required leadership, collaboration, and financial planning from initial concept through successful implementation for strategic projects such as courthouse expansion, jail expansion and new health department facility. He is especially proud of his leadership from early concept to full operation of Kendall Area Transit ("KAT") – the county's first public transportation system serving the entire County with 12 incorporated cities.
He strives to build teams and collaboration for internal and community initiatives. His teams plan together for goals and celebrate together when accomplished. "In my career I've seen change happens regardless, but productive progress takes planning and collaboration. Developing strong relationships and collaboration is the foundation of everything I do, professional and personally".
Jeff earned his Master's degree from Indiana University and Bachelor's degree from DePauw University. Jeff and his wife Gina are proud parents of two and enjoy time with their two rescue dogs (Bugsy and Daisy) and rescue cat (Linus).