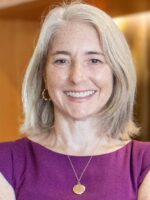 Jenny Flynn
President & CEO, Community Foundation for Southern Arizona
Before joining the Community Foundation for Southern Arizona as President and CEO, Jenny Flynn served Southern Arizona through various leadership positions at the University of Arizona Foundation for over twenty years. Working with a broad array of national and local partner foundations, she raised more than $100 million for the University. She also collaborated on significant initiatives, including building a talent management program and creating and executing a strategic plan to double fundraising.
As a volunteer leader, trustee, and vice chair with the Women's Foundation of Southern Arizona, Jenny served as a champion for women and girls in Southern Arizona. In 2021, she supported the launch of the new Women and Girls of Color Fund to provide unrestricted financial support to nonprofit organizations run by and benefiting women and girls of color.
Prior to her career as a fundraising and foundation professional, Jenny spent time as a National Park Ranger in Denali National Park and Glacier National Park, taught English as a second language in Spain and Italy, and served as teaching faculty and lecturer at the University of Montana, Sinte Gleska University, and Arizona State University.