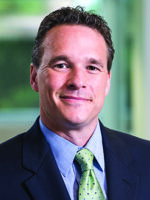 Jon Dudas
Senior Vice President & Chief of Staff
The University of Arizona
Jon Dudas serves as the Senior Vice President, Senior Associate to the President and Secretary of the University. In this role, Jon facilitates the UA's relationship with the Arizona Board of Regents and Arizona's other public universities. Additionally, he oversees Presidential Events, University Communications and Government & Community Relations, a division comprised of Community, State and Federal Relations.
Dudas worked for the U.S. government for 14 years, most recently as under secretary of commerce for intellectual property and director of the U.S. Patent and Trademark Office. He served in the position from 2004 to 2009, overseeing 9,000 employees and a nearly $2 billion annual budget.
During his time at the U.S. Patent and Trademark Office, Dudas spearheaded several patent cooperation and development missions with China, India, Europe, Brazil and other countries, working to improve intellectual property systems globally.
Prior to directing the U.S. Patent and Trademark Office, he served as the counsel for legal policy and senior floor assistant to Speaker of the U.S. House of Representatives Dennis Hastert, and as staff director and deputy general counsel of the U.S. House Judiciary Committee.
Following his U.S. government tenure, Dudas served as the president of FIRST, a nonprofit organization that aims to inspire children to pursue majors and careers in STEM – science, technology engineering and math – fields. He also was a partner in the law firm Foley & Lardner LLC, where he specialized in international intellectual property strategy and policy.
He currently serves on the board of directors of Conversant Intellectual Property Management.
Dudas has a law degree from the University of Chicago and a bachelor's degree in finance from the University of Illinois. He began his career in private legal practice in Chicago.
He and his wife, Nicole, have four children; one is a UA graduate and another is a sophomore at the UA.