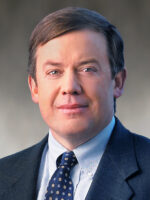 Michael Crow
President
Arizona State University
Michael M. Crow became the 16th president of Arizona State University in 2002. He is guiding the transformation of ASU into one of the nation's leading public metropolitan research universities.
Under his direction the university pursues teaching, research and creative excellence focused on the major challenges and questions of our time as well as those central to the building of a sustainable environment and economy for Arizona.
Prior to joining ASU he was executive vice provost of Columbia University where he also was professor of science and technology policy in the School of International and Public Affairs.