Thank you for considering Southern Arizona as a possible site for your business relocation. The team at Sun Corridor Inc. can quickly and easily provide you with the right data to demonstrate the value of locating in Southern Arizona.
Please review the information here on our website and don't hesitate to call us with your questions. If you are planning to travel to Southern Arizona, we would be pleased to help you plan your itinerary and to lead a tour that is customized to your specific needs.
We are Southern Arizona's "one stop shop" to facilitate smooth communications between you and the City of Tucson, Pima County, Pinal County, Cochise County, Santa Cruz County and the surrounding municipalities. We provide answers to your questions about property availability, permitting & development, regional workforce, and any local, state, or federal incentives that might apply to your business.
A Strategic, Southwestern Location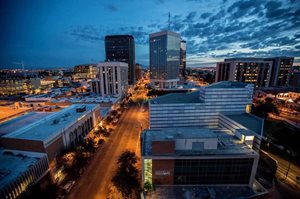 Sun Corridor Inc. puts a critical business focus on one of the most dynamic and fastest-growing major business centers in the U.S. spanning from Mexico through Southern Arizona, including Cochise County, Santa Cruz County, Pima County and Pinal County.
The collective assets of Southern Arizona, combined with Mexico's economic growth, lead to a strategic location and unique competitive strength for business growth and development found nowhere else.  The Southern Arizona/Sonoran region, with a total population of 1.59 million, is a binational, world-class center in integrated research, manufacturing and supply chain strength.
The Tucson MSA serves a market of 45 million people within a 500-mile radius. In terms of geography, it lies within 415 miles of Southern California population centers and within 64 miles of the Mexican border, Arizona's largest trade partner.
Proximity to the I-10 / I-8 (east/west) and I-19 (north/south) interstate highway system provides timely access to suppliers and markets in other southern states. Additionally in Southern Arizona four international ports of entry, the region's rail/truck intermodal (Port of Tucson), 11 general aviation airports across several counties and Tucson's international airport facilities provide supplementary, highly-efficient methods for people and product movement.
Southern Arizona is blessed with warm weather, lots of sunshine and very few natural disasters. The stable climate is ideal for many types of business systems and testing environments.  Fertile agricultural land means a year-round growing season.
Businesses regard Southern Arizona as an emerging location of choice for many important reasons including:
A diverse workforce and skill set availability
No corporate inventory tax
Arizona's designation as a right to work state
Focused incentives for jobs and capital investment
Congressional delegation focused on the State of Arizona's long-term needs
Availability and affordability of land, water and electricity
Competitive operational and payroll costs