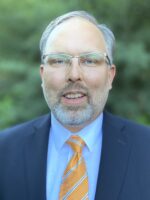 Travis Anderton
Vice President, Sterilization
BD, Global Supply Chain
Travis Anderton is Vice President of Sterilization for BD. In this role, he is responsible for the development and execution of the company's sterilization strategy, where he focuses on capacity planning, network architecture, alignment of resources, and coordination of programs to support BD's global manufacturing and supply chain. Additionally, Anderton leads a central team to support sterilization operations across all segments of the company and ensures alignment to demand/supply planning, process optimization and technology transfer.
Anderton joined BD in 1999, and has centered his more than 20 year career at BD on project management, engineering, EHS&S, and continuous improvement. Over the last 10 years, Anderton has been directly involved in a number of major site expansion projects globally and understands the value of strong local community relationships and partnership. Previous roles include Senior Director Sterilization and Utilities Center of Excellence, Director of Sustainability and Property Protection, Facilities and Energy Manager, and Facilities Engineering and EHS Manager.
Anderton graduated from Utah State University with a Bachelor's degree in Biology. He also hold both a Master's of Public Health and a Master's of Business Administration from the University of Utah. Professional affiliations include AdvaMed, EOSA, AIHA and GIPA.