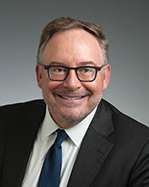 Walter Richter
Public Affairs Administrator, Southern Arizona Division
Southwest Gas
Walter Richter is an Administrator of Corporate Public Affairs for Southwest Gas Corporation.  His duties include local government relations throughout the SWG Southern Arizona Division.
Richter started with Southwest Gas as an Account Representative in Tucson in 1997 and has been promoted several times. Prior to accepting a promotion to his current position, Richter oversaw Service Planning for the Yuma District.  While in Yuma, Richter served on several Boards and Community associations.  Notably, he was the Chairman of the Yuma County Chamber of Commerce Board of Directors and President of the Yuma Executives Association.
Richter graduated from the University of Arizona with a Bachelor of Arts in Political Science.
Richter is active as a board member of Sun Corridor Inc., Metropolitan Pima Alliance and the Downtown Tucson Partnership.  Richter is also the Vice-Chair of the Tucson Metropolitan Chamber of Commerce Candidate Selection Committee.