Guaymas/Empalme, Sonora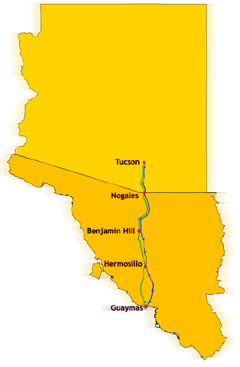 Situated on the eastern coast of the Sea of Cortez is Guaymas, Sonora, which is home to the fastest growing aerospace clusters in Mexico. The city of Guaymas was ranked 5th in the Top 10 Small Cities Cost Effectiveness. Guaymas was also listed in the top 10 Port-Related Intermodal Sites. Guaymas has the reputation of being cost-effective with labor-intensive support.
Guaymas is ranked 5th in cost effectiveness across the Americas—it allows access to a stable, competitively priced Mexican labor force with a deeply embedded manufacturing culture, as well as Mexican industrial parks and manufacturing space that have been recognized for their higher quality; it is within close proximity to the border allowing for cheap transportation of goods in shorter amounts of times; there are strong connections with the local community and government; and there are low rates of employee turnover and absenteeism.
Hermosillo, Sonora

Being the capital of the northern State of Sonora, Mexico, Hermosillo is the main economic and cultural center of the state and the region with 27 percent of Sonora's total population. In 2016, it was the seventh most competitive city in Mexico according to the Mexican Competitiveness Institute. Hermosillo is also home to the main campus of the State's University: Universidad de Sonora.
There has been an impressive amount of recent growth in Hermosillo. In 2012, Ford Motor Co. invested $1.3 billion dollars for the expansion of its Hermosillo Stamping and Assembling Plant. The aeronautics industry also has a strong presence here. The city is one of the most important clusters of the aeronautical industry in the country with 45 companies generating more than 7,000 jobs. The region's IT industry is booming with more than 300 companies generating 5,000 jobs in the state. These companies have taken advantage of the excellent workforce, IT educational programs, low operational costs, training, quality of life and infrastructure that Hermosillo has to offer.
Nogales, Sonora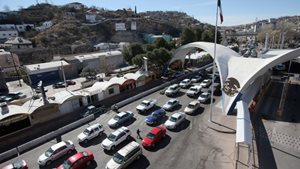 Nogales is Arizona's gateway for international trade, with more than $24 billion of imports and exports. The strategic location of Nogales allows companies on both sides of the border to enjoy the benefits of lower operating, labor, transportation and distribution costs.
As noted in a recent University of Arizona study (Pavlakovich-Kochi, 2013), the monetary impact of the maquilas for greater Nogales, AZ, including direct and secondary activities, is more than 1,100 jobs and $206.8 million. About 35 percent of Nogales, Sonora maquilas (manufacturing facilities) are owned and operated by out-of-Arizona parent companies, while only 20 percent have a parent company in Nogales or Santa Cruz County.