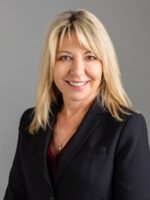 Elisa Ross
Vice President of Marketing and Sales
Hughes Federal Credit Union
Founded in Spring 2009, BizTucson is the region's premiere business magazine.
Elisa Ross is the Vice President of Marketing and Sales for Hughes Federal Credit Union in Tucson serving members in Southern Arizona.  In her current roles she is responsible for leading efforts to continue to strengthen the credit union's mission to provide superior personalized service and high-quality financial products to our field of membership while maintaining our long-term financial stability.
Elisa has over 35 years working in the credit union industry and 23 years of executive leadership at Hughes Federal Credit Union . She is a volunteer for Angel Charity for Children for over eight years serving on several committees and currently serving on the Board. She actively supports many local nonprofit organizations on behalf of Hughes and oversees community and business development efforts within the credit union. Elisa  also participates in the World Council of Credit Union's Global Women's Leadership Network, of Southern Arizona. She along with other participants founded the Southern Az Chapter, which provides women with the opportunity and resources to make a measurable difference in the lives of each other and credit union members in their communities.
Originally born in Chicago Illinois, she moved to Tucson in the 80's with her family and attended Pima College and the University of Arizona. .