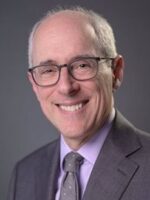 Jeffrey S. Rothstein
Counselor and Executive Advisor
Vice President & Head of Legal (ret)
Roche Tissue Diagnostics
Jeffrey S. Rothstein recently retired as Vice President and Head of Legal for Roche Tissue Diagnostics in Tucson, where he played a significant role in managing RTD through the pandemic, mentoring some of the next generation of Roche's leaders, and nurturing the company's culture and mindset.
Prior to joining RTD five years ago, Jeff was a partner at Sidley Austin LLP in Chicago, where he was a leader of Sidley's global Technology and IP Transactions Practice and handled a wide range of U.S. and cross-border technology and corporate transactions, focused on the life sciences.
Jeff plans to enjoy retirement while also finding ways he can continue to help the Tucson business community grow and prosper.